New Report Identifies the Importance of Upskilling in Attracting and Retaining Talent in the Irish Hospitality Industry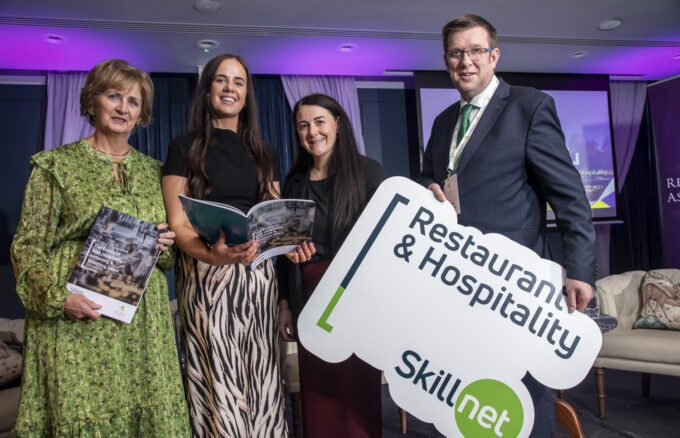 Press release, November 20th, 2023: A new report from Restaurant & Hospitality Skillnet, one of 70 Skillnet Ireland Business Networks nationwide, and the Restaurants Association of Ireland has highlighted the importance of upskilling in attracting and retaining talent in the Irish hospitality industry.
Launched last week, the report found that through the continued development of micro-credential programmes Restaurant & Hospitality Skillnet could play a leading role in the delivery of training in the computer/digital skills arena, including specific upskilling in areas such as finance and accounts, payroll, electronic reservations, social media, e-learning and more.
According to the research, employers need to be open to, and offer, a range of career path opportunities, as learning and development programmes in the workplace are key to securing new hires and developing existing talent. The study shows that the feedback, views, and experience of employers are also essential for identifying upskilling requirements for the sector's growth and development.
The aim of the Restaurant & Hospitality Skillnet is to grow Ireland's world-renowned hospitality sector, by ensuring the skills and training needs of member businesses are adequately resourced. The network develops and delivers bespoke upskilling solutions for business owners, managers, chefs and front of house staff.
Skillnet Ireland is the national talent development agency of the Government of Ireland, responsible for advancing the competitiveness, productivity, and innovation of Irish businesses through enterprise-led talent development. In 2022, Skillnet Ireland delivered upskilling and training programmes, investing €70.2 million, to almost 25,000 businesses and over 92,000 workers through its 70 Business Networks, across most sectors and all regions in Ireland.
The in-depth report explores the profound impact of the Covid-19 pandemic on the sector's workforce and provides actionable insights for businesses aiming to thrive in the face of ongoing challenges.
The hospitality industry was the first sector to be affected by temporary closures and layoffs during the pandemic and has grappled with a persistent skills shortage ever since. A 2021 Oireachtas report, on the impact of Covid-19 on the hospitality and entertainment sectors, highlighted the departure of international staff returning home and employees transitioning to sectors like retail and distribution as significant factors affecting employment in the industry. As a result, businesses are faced with the urgent need to retrain, reskill, upskill, and source new personnel to meet evolving demands.
The research report, which had very strong engagement with over 800 respondents, examined the Irish hospitality industry's diverse workforce through one-on-one interviews with industry leaders, in-depth focus groups with employees, and a comprehensive survey. This research led to the identification of six distinct employee segments, each with unique needs, attitudes and skills. The segments – including Future Star, Career Committed, Family Ties, Career Seeker, Career Mover, and Career Entrant – provide valuable insights of the industry's workforce composition and what motivates each employee type.
The report recommends that a Future Star would benefit from role specific upskilling in areas such as revenue, accounts and/or food and beverage, while someone who falls into the Career Mover category could benefit from a micro-credential programme that would encourage them to stay in the sector.
To address these findings, the report includes comprehensive recommendations for hospitality sector businesses, including a review of learning and development planning, engaging in micro-credential programmes, revisiting recruitment strategies, implementing workplace coaching, conducting thorough analyses of past hires and digital literacy upskilling.
Welcoming the publication of the report, Niamh O'Malley, Restaurant & Hospitality Skillnet Network Manager, said: "We are thrilled to present this report, which not only highlights the challenges faced by the hospitality industry but also provides practical solutions for businesses to adapt, thrive, and create a skilled, motivated workforce. By understanding the unique needs of different employee segments and implementing tailored training and development initiatives, businesses can foster talent, enhance employee satisfaction, and achieve long-term success".
Meanwhile, Michelle Guthrie, Skillnet Ireland Development Advisor, said: "The Irish hospitality industry has a well-established reputation for delivering top-class offerings and customer service. The Covid-19 pandemic impacted all businesses but the hospitality sector, in particular, is still grappling with a number of legacy challenges brought about by the public health emergency. This report thoroughly examines these challenges and provides comprehensive actions for businesses looking to futureproof their workforce. Restaurant and Hospitality Skillnet is committed to supporting businesses, through targeted talent development solutions that address their most urgent needs."
The report can be accessed online here: https://www.rhskillnet.ie/the-future-of-irish-hospitality-attracting-retaining-talent/
Ready to become a member?
Find out more about the benefits of memberships
with the Association here.