President's Report – June 2023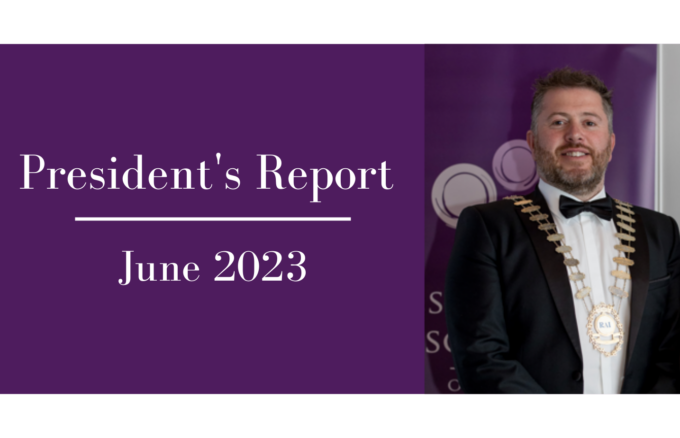 So, another month has passed. May brought us the biggest and most successful Irish Restaurant Awards to date. We had our largest ever event at the Clayton Hotel Burlington Road. Over 1,200 people representing hotels, gastro pubs, bars, guesthouses, cafés and restaurants were in attendance, a new record and one that shows us how important The Awards are to our sector. It was a night to celebrate the best of the best; the new, the old; the established and the newbies. Champagne poured, wine glasses clinked and the band rocked until the early hours of the morning. People danced and chatted through the night, catching up with new and old colleagues, congratulating one another on an award or on a new opening. Everything that is hospitality was on show, I felt proud of our sector, to live it, to work it and just to be a part of it. Bravo to all that attended, next year will be even bigger and possibly even better.
---
May 2023 Review
It's great to see tourists, they exist, even in Kildare. Figures published show we are slowly getting back to pre-pandemic numbers but I didn't believe it until recently. The tourists have been slow to venture into the midlands but I'm glad to say that they're finally here. Trade is good and strong here at the moment here in Kildare, as it is in Dublin and the major hot spots around the country. However, not a day goes by that we hear stories about places like Donegal and Sligo for example. These places are normally flush with tourists at this time of year, but in a lot of areas the hotels are already full of refugees. For example 50% of all bed nights in Donegal are currently taken up. Though providing essential revenue streams for these hoteliers and owners, the knock on effect on local restaurants and auxiliary business is huge. The summer season is vital for these businesses and in a lot of cases its supports them through the flowing winter. Coupled with the current costs of doing business, I fear that more and more of them will have to close unless further support mechanisms are put in place. Let's hope something changes for them soon. With the VAT issue coming hot on the heels of the summer, it's the last thing these and other struggling businesses need. As I've said over and over, keep talking to whoever will listen. #keepavt9 is for all of us….
Yours in Hospitality,
Paul Lenehan
Ready to become a member?
Find out more about the benefits of memberships
with the Association here.