President's Report – October 2023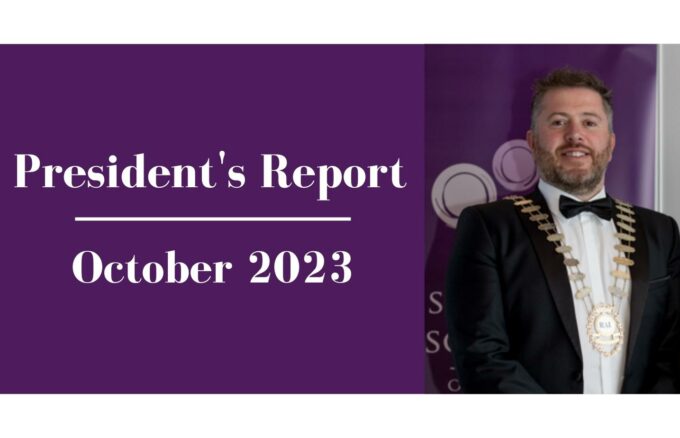 So here we are: it's the start of October. Another month has passed by and they now all seem to be blending into each other, with the same issues are arising day after day. News of closures – new and old – are becoming much more frequent. The cost of doing business is now by far the highest it has ever been and in my own businesses it is no different. Having opened two businesses during the recession years between 2009 to 2012, and then another one in 2020 in the middle of COVID-19, I can safely say that this is the most difficult time I have ever experienced.
It is not for the lack of customers. Their continued support is much appreciated and valued. At the end of the day, however, the costs associated with providing the service we would like to provide just don't add up. If it was isolated to just one business, I'd ask myself questions. But when I see it's the same in all four of my businesses, it becomes reality. Our Government seems to think that it there is no need to maintain the reduced VAT rate for our sector as it had it for long enough and no longer needs it. This couldn't be further from the truth. I have no idea where they are getting their data from.
Over the past month, I have been on calls and have taken part in pre-budget submission meetings with Ministers Michael McGrath, Paschal Donohoe, Simon Coveney and Catherine Martin. Our colleagues in the Irish Hotels Federation (IHF), Vintners' Federation of Ireland (VFI) and the Licensed Vintners Association (LVA) were also on some of these calls, where each of the representative bodies made various requests. For everybody, VAT9 was the main ask. I strongly believe that the decision to return the VAT to 13.5% is the wrong one. I believe that when the November VAT returns are due and our colleagues all around the country sit down to do those VAT returns, they will really see how hard and how difficult the future is going to be. All this comes at a time when our sector has not yet fully recovered from the pandemic. On top of this, in January 2024, the minimum wage is due to go up, paid sick leave will increase to five days and the auto enrolment scheme for pensions contributions is also due to be introduced in 2024.
The Government are slowly releasing details of Budget 2024 and, so far, there does not seem to be any measures that will stimulate or rescue our businesses. A proposed reduction in the USC will no doubt put extra money back into people's pockets, but it won't be enough to save the restaurants that are struggling. The wholesale price of energy is dropping at the moment and, for us domestically, it will be of value. However, the same cannot be said for commercial use. We have asked for the TBESS supports to be looked at, but nothing has been confirmed, instead suggestions of one-off payments and alternative grants have been spoken about. The Government simply does not realise how bad things are and it will seemingly take multiple closures and job losses for the message to get through. The old expression of too late, the horse has bolted, comes to mind.
In every one of my last monthly reports, I have asked you all to canvas and talk to your local representatives. Keep the conversation going. Tell them how bad things really are as, without their support, we have no chance whatsoever.
Stay positive, stay safe,
Yours in hospitality,
Paul Lenehan
Ready to become a member?
Find out more about the benefits of memberships
with the Association here.