Restaurant & Hospitality Skillnet launches 'VR Resolve' Virtual Reality Customer Complaints upskilling solution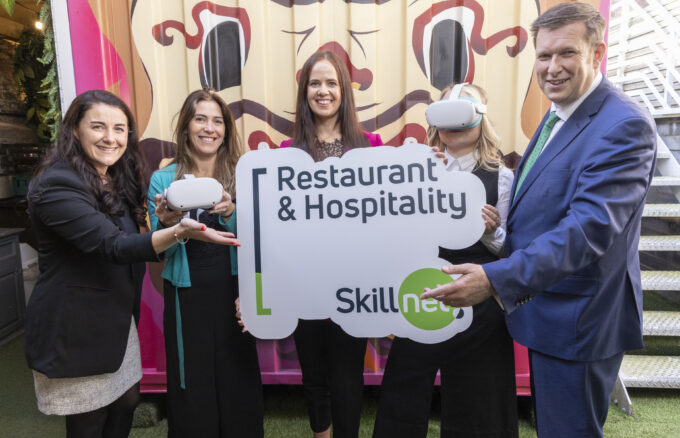 (L-R) Michelle Guthrie, Development Advisor, Skillnet Ireland, Camille Donegan, Adaptas Training, Niamh O'Malley, Network Manager Restaurant & Hospitality Skillnet, Angelika Bryniak, Training & Events Executive, and Adrian Cummins, Chief Executive, Restaurants Association of Ireland.
Thursday 5th October 2023: Restaurant & Hospitality Skillnet, one of 70 Skillnet Ireland Business Networks nationwide, has launched a revolutionary customer service upskilling solution which harnesses the power and ingenuity of Virtual Reality (VR).
Tailored specifically for the hospitality industry, VR Resolve is an innovative VR customer complaints training programme. The hospitality industry has always recognised the critical importance of exceptional customer service and VR Resolve takes this commitment to the next level by offering a unique and engaging upskilling experience. This programme enables employees at all levels to hone their skills in handling customer complaints effectively, leading to improved guest satisfaction and loyalty.
Restaurant & Hospitality Skillnet's mission is to grow Ireland's world-renowned hospitality sector, by ensuring the skills and training needs of member businesses are adequately resourced. The network develops and delivers bespoke upskilling solutions for business owners, managers, chefs and front of house staff.
Skillnet Ireland is the national talent development agency of the Government of Ireland, responsible for advancing the competitiveness, productivity, and innovation of Irish businesses through enterprise-led talent development. In 2022, Skillnet Ireland delivered upskilling and training programmes, worth €70.2 million, to almost 25,000 businesses and over 92,000 workers through its 70 Business Networks, across most sectors and all regions in Ireland.
VR Resolve allows participants to step into realistic scenarios and work through various customer complaints that could occur in a restaurant setting. Participants practice responding to complaints, making decisions, and seeing the direct consequences of their actions in a risk-free virtual setting.
Niamh O'Malley, Restaurant & Hospitality Skillnet Network Manager, expressed her excitement about these new programmes, stating: "We are thrilled to introduce VR Resolve, which marks a transformative leap forward in customer service training, providing hospitality professionals with an immersive and effective tool to master the art of addressing customer complaints with finesse and empathy. VR Resolve is a game-changer for the hospitality industry."
Skillnet Ireland Development Advisor, Michelle Guthrie, said: "Skillnet Ireland is committed to addressing the skills needs of Irish businesses through cutting-edge, bespoke and flexible subsidised upskilling solutions. VR Resolve is a prime example of the Skillnet Ireland mission in action. By providing a safe space for learning and honing skills, this programme empowers staff to exceed guest expectations."
Further information about VR Resolve and details about how to sign up for the programme are available on the Restaurant & Hospitality Skillnet website: https://www.rhskillnet.ie/training/vr-resolve/
The Restaurant and Hospitality Skillnet is funded by Skillnet Ireland and member companies. Skillnet Ireland is funded from the National Training Fund through the Department of Further and Higher Education, Research, Innovation and Science and Co-funded by the European Union. For further information on Skillnet Ireland please visit: https://www.skillnetireland.ie/
Ready to become a member?
Find out more about the benefits of memberships
with the Association here.